Dec 22, 2021
i4F unveils new website available in five languages featuring new corporate narrative and technology cluster branding
English, Chinese, French, German and Vietnamese language versions
New company vision and mission
New branding for i4F's six patent clusters
HAMONT, BELGIUM – i4F®, a group of companies providing patents and technologies to the flooring industry, today announced that it has launched its new website in five languages: English, Chinese, French, German and Vietnamese. The new website is a reflection of i4F's new vision and mission as well as includes new branding for its six technology clusters: i4F drop-lock, digital printing, surface finishing, walls & ceilings, board composition and process technologies. The enhanced corporate design and messaging will be introduced into the company's range of marketing materials as well as events.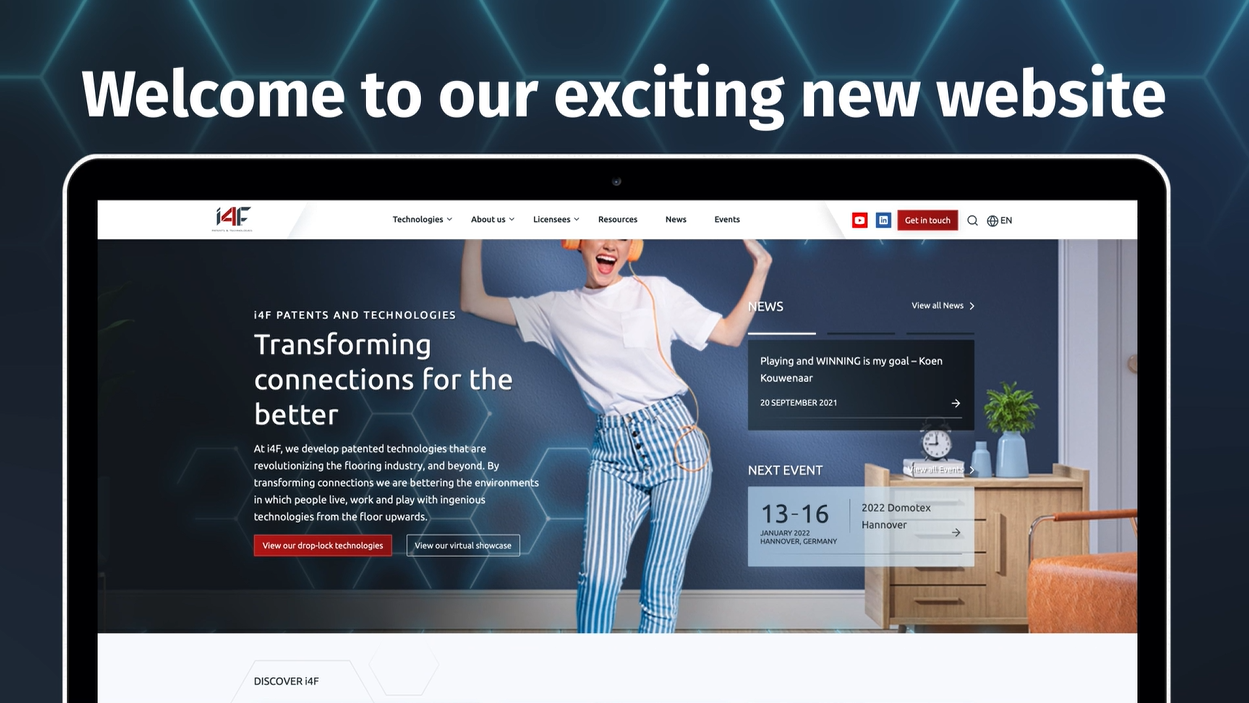 The new, edgy web design delivers smooth navigation and can be switched into any of the five languages from all sites. In addition, the websites offer a comprehensive resource area offering easy access to the company's latest news, events as well as all downloadable resources – including films, installation instructions and brochures.
John Rietveldt, i4F's CEO says, "These new websites reinforce our commitment to our licensees by facilitating access to the world's most advanced technologies in flooring – right down to the end user!
Our new vision articulates our aspirations perfectly. We want to enhance where people live, work and play with ingenious technologies, from the floor upwards. Through a combination of technical excellence and market expertise we've already created the most easy-to-use, effective and advanced floor-locking solutions in the world. But that's not the end of our story. In fact, we've only just begun. We believe that even the smallest innovations have the potential to transform not just products, but the lives of the people that use them. It's why we own and represent thousands of patents and technologies. And it's why we continue to develop more, both independently and with our partners."